Apple and Blueberry Slump
an all-time favourite winter pudding – serves 6
INGREDIENTS
450g/1lb Bramley apples
25g/loz butter
250g/9oz blueberries
85g/3oz golden caster sugar
250g tub mascarpone
FOR THE SLUMP:
85g/3oz butter, cut into pieces
200g18oz self-raising flour
50g/2oz golden caster sugar
Finely grated zest of 1 lemon
150m1/ 1/4 pint milk
METHOD
1) Have ready a buttered 1.5 litre/2 3/4 pint ovenproof dish. Peel, core and thinly slice the apples. Heat the butter in a frying pan, add the apple slices and fry, turning them occasionally, for 3-4 minutes, until just starting to soften.Tip into the ovenproof dish along with the blueberries and sugar, and mix lightly. Set aside.
2) For the slump, rub the butter into the flour until the mixture resembles fine crumbs, then stir in the sugar and lemon zest.
3) Preheat the oven to 200C/gas 6/fan 180C. Make a well in the centre of the dry slu m p mix and add the milk. Mix lightly to form a soft mixture. Spoon blobs of the mascarpone over the surface of the fruit, then spoon the slump mixture over the mascarpone and bake in the oven for 20-25 minutes, until the topping is risen and forms a craggy golden crust. Leave to cool for 5-10 minutes before serving.
---
Apple and Aldeburgh Blueberry crumble
SERVES:6
PREPARATION TIME: 15 minutes
COOKING TIME: Approximately 50 minutes
700g (about 4 medium) Bramley apples, peeled, cored and chopped
185g caster sugar
Juice of 1 lemon
300g Aldeburgh Blueberries
150g plain flour
150g granulated sugar
125g butter, chilled and diced
50g flaked almonds
You will also need: a 1L ovenproof dish, greased
Preheat the oven to 180 C/350 F/Gas Mark 4. Put the apples, caster sugar and lemon juice into a large saucepan and cook, stirring frequently, over a medium heat for 10 minutes, or until the apples have softened. With a slotted spoon, transfer to a bowl, leaving most of the juice behind, and allow to cool a little. Stir in the blueberries. Transfer the fruit to the prepared dish.
With your fingertips, rub together the flour, granulated sugar and butter in a mixing bowl, until the mixture resembles breadcrumbs and starts to clump together. Alternatively, you can pulse the mixture in a food processor until just combined. Stir in the flaked almonds.
Sprinkle the crumble mixture evenly over the fruit and press down lightly. Place the dish on a baking sheet and bake for 35-40 minutes, or until golden and bubbling. Serve with custard, cream or ice cream.
Recipes are taken from Sainsbury's Magazine
---
BLUEBERRY FLAPJACKS
Makes 18
Ingredients: 8tbsp honey; 4tbsp brown sugar; 3tbsp vegetable oil; 1 1/2tsp ground cinnamon; 3 1/2 cups porridge oats; 2 cups fresh blueberries.
METHOD:
Preheat oven to 350f/18Oc/gas mark 4. Lightly grease a shallow baking tray. Combine honey, brown sugar, oil and cinnamon in a saucepan and bring to the boil. Allow to bubble for two minutes, without stirring. In a large mixing bowl, combine oats and blueberries. Stir in honey mixture until thoroughly blended.
Tip into baking tray and spread out, gently pressing mixture flat. Bake until lightly brown, about 40 minutes. Cool completely in the tray on a wire rack. Cut into squares or rectangles.
---
BLUEBERRY AND SOYA SMOOTHIE
Serves 2
Ingredients: 8fl oz soya milk
6oz firm tofu, 1 punnet of blueberries (2 handfuls); 1 tsp almond extract,1 tsp vanilla extract, 1 banana
METHOD:
Whizz all ingredients in blender till smooth. Serve immediately or refrigerate
---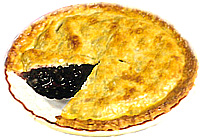 North Americans have been eating
Blueberries for thousands of years, but it was only when the Europeans started to colonise eastern parts in the early 1600's, that "recipes" started to appear. The first recipes were very simple, (Blueberries eaten fresh, mixed with milk, sugar and spice) and in many cases based upon the cooking methods of native Indians. Blueberry corn bread was a favourite of the Iroquois, as was adding stewed Blueberries to roasted duck.
The first three recipes are classic "American", but the next three have been put together by very famous chefs; the last recipe is from Kirsty of "Kirsty's Cakes", Leiston, Suffolk – not quite so famous, but she is working on it !
The pie is delicious !
---
BLUEBERRY UPSIDE-DOWN PUDDING
2 cups of fresh Suffolk blueberries
3/4 cup sugar
1/4 cup shortening
1 egg
1 cup flour
1 1/2 tsp. baking powder
1/8 tsp. salt
1/2 cup milk
BLUEBERRY PANCAKES
1 cup sifted flour
2 tsp. baking powder
1/2 tsp. salt
2 Tbsp. sugar
1 egg, well-beaten
2/3 cup milk
2 Tbsp. shortening, melted
1 cup fresh Suffolk blueberries
BLUEBERRY CHEESE TART
1 1/2 cups vanilla cookie crumbs
6 tablespoons butter or margarine, melted
1/8 teaspoon ground nutmeg
1 package (8 oz.) cream cheese, softened
1/2 cup sugar
2 eggs
1/2 teaspoon each vanilla and grated lemon peel
Blueberry Topping

Pour washed blueberries into a buttered casserole (1 1/2 qt. size) and sprinkle with 1/4 cup sugar. Cream shortening, 1/2 cup sugar, and 1 egg together. Sift together flour, baking powder, and salt. Add this to creamed mixture alternately with 1/2 cup milk. Pour batter over blueberries. Bake at 375 F. for 45 minutes. Spoon out while hot and serve with cream, whipped cream, ice cream, or milk. Serves 4 to 6.
Sift together flour, baking powder, salt and sugar. Combine beaten egg, milk and melted shortening. Add to the dry ingredients. Beat until mixture is smooth. Stir in washed blueberries. Drop batter from a tablespoon onto a hot griddle. Cook one side until puffed, full of bubbles, and cooked on the edges. Turn and cook on the other side. Makes about ten 3-inch cakes.
Combine cookie crumbs, butter and nutmeg. Press into 9-inch tart pan with removable bottom. Beat cream cheese, sugar, eggs, vanilla and lemon peel with electric mixer until smooth. Spoon into cookie crust. Bake at 375F. 15 minutes or until firm. Cool. Spread Blueberry Topping over cheesecake. Refrigerate several hours. Makes 10-12 servings.
Blueberry Topping: Combine 2 cups fresh or frozen blueberries, thawed in necessary; 1/4 cup each sugar and water; 2 tablespoons cornstarch and dash salt in saucepan. Cook and stir about 4 minutes or until thickened. Stir in 1 tablespoon lemon juice. Cool to lukewarm. Makes about 2 cups.
*Reprinted from North American Blueberry Council
Peter Gordon is a New Zealander who owns
"The Providores and Tapa Room"
The restaurant was opened in September 2001,
and is located at 109 Marylebone High street, London W1U.
The Tapa Room is open from 8am-10.30pm, 7 days a week, serving food all day, from breakfast through to dinner, with an extensive wine list and coffee menu. It's very relaxed and no bookings are taken.
The first floor restaurant, The Providores, is open for lunch and dinner, 7 days a week, and bookings are essential. Both serve up the delicious Fusion style food that Peter Gordon and Anna Hansen are well known for, with The Providores being slightly more formal – but very relaxed.
Here is his Blueberry recipe !