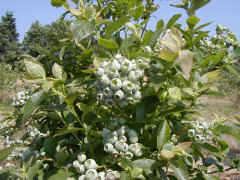 Sparton
This is a Blueberry that produces firm light blue fruit of medium size, the flavour is excellent ! The Sandlings of the Heritage Coast are perfect for this Blueberry, as it prefers light well drained soil.
The bush is very vigorous, erect and open – it is very productive !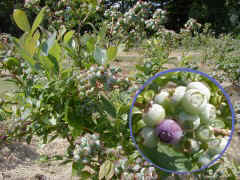 Duke
An early variety, with striking autumn foliage of yellow and orange. The berries are of medium size, firm and light blue. The flavour is mild, but becomes more aromatic after several hours in the fridge! Perfect in a fruit salad.
The bush is vigorous, with stocky canes but well branched.
Chandler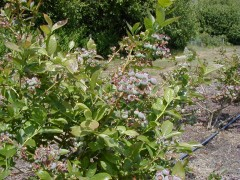 This bush is a new variety of Blueberry that produces very large berries, the largest of all blueberry plants! Although the berries are large, flavour is not lost, they taste great! Chandler produces its berries later that Duke and Sparton, they ripen throughout August.
The bush is smaller and more compact than Duke and Sparton and more difficult to grow.

The other varieties that we grow are
Bluecrop – an older variety, but productive with a good flavoured berry
Bluejay –
a light blue mild flavoured berry
Blueray – a very upright bush
with straight canes,
producing large light blue fruit.